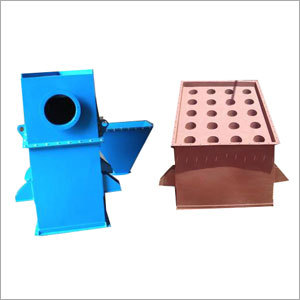 Multi Cyclone Dust Collectors
Product Code : 15
Product Description
Multi Cyclone Dust Collectors are used for removing particulate from in-plant air efficiently. These are applicable in many industries such as woodworking, boilers, powder coating, metal dust, chemical & pesticides, plastics, foundry, carbon processing, grain handling and many other industries. Our high quality Multi Cyclone Dust Collectors are manufactured using cutting edge technology. Low power consumption, robust structure, easy operation, low maintenance cost and resistance to adverse conditions are the some main attributes of our products. Customers can purchase these products at a very low cost.
Cement Operation:
The dust-laden air enters into the cyclone tangentially.
This way the clean air exhausts out of the cyclone.
The force of the centrifugal shifts the particulate against the cone wall, out of the air stream, to a storage area.
Some other special features of its are:
Accelerates the creation of the centrifugal airflow.
The cylinder minimizes inlet turbulence that is common.
A greater centrifugal airflow improves the separation of particles.
The design of the dust collectors integrates a helix into the inner cylinder.
Also boosts the collection efficiency.
Contact Us
SN-32, Pisoli Road, Kondhwa (B), Pune, Maharashtra, 411048, India
Phone :+917042403685